Here's another something wonderful to find it's way to the LISP listserv. Although I'm no longer on the path of librarian enlightenment, sometimes something interesting occasionally shows up.
Take the quiz:
"Which American City Are You?"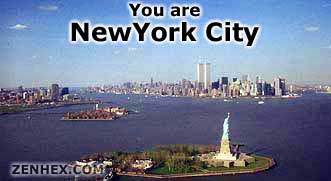 New York
You're competitive, you like to take it straight to the fight. You gotta have it all or die trying.
Also, Friday night/Saturday morning's showing of Lawrence of Arabia was grand. I can't believe it! I'm technically seeing a nice guy with manners!!! He was also the only non-relative to wish me a happy birthday! I've invited M. to watch the Detroit Fireworks with me on Wednesday, but I just emailed him this morning and since it's a Monday he's probably busy.