Take the quiz:
"What Harry Potter Character Are You?"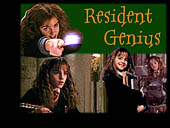 Hermione Granger
You are Hermione Granger. You are extremly smart, love to read, study, and are the top person in your class!
What am I going to do once I finish the fifth Harry Potter book??? I read number 4 last week and am steadily ploying through number 5. Maybe I'll return to Catch-22, but my mind isn't limber enough for that as of right now.